Jim Wilbat is an award-winning glass artist based in Illinois.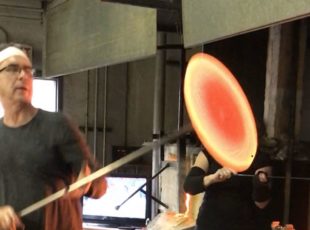 I am in the final stages of blowing this wavy bowl, so I need to get the glass super hot in order to spin it open using centrifugal force. I then turn it downward. and pause briefly while spinning the glass, so that gravity and timing cause the waves to form. Thanks to my assistant Audrey Penny.
Glencoe Festival of Art
|
Downtown Glencoe, IL
*NOW VIRTUAL* St. James Court Art Show, Louisville, KY
|
Your own home!
Duncan McClellan Gallery Talk & Tour Series
|
ONLINE - 4:00 PM EST 3:00 PM Central
Wilbat Glass Studio 29th Annual Open House & Sale
|
James Wilbat Glass Studio in Mundelein, IL